Luxiny Bath, Body and Skincare
We are passionate about helping customers achieve gorgeous, radiant skin using natural and safe ingredients that give our customers the desired results!
We make each product with high-quality natural ingredients.
All of our products are plant-based, vegan, cruelty-free, paraben-free, sulfate-free, and made in the USA.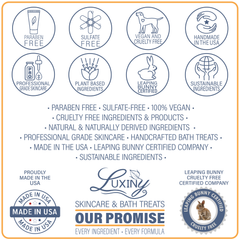 Luxiny's strives to provide naturally luxurious products made from plant-based ingredients.

We formulated our spa-quality skincare products with the core belief that natural ingredients can be more effective than artificial ingredients. Often artificial ingredients are used to mimic the effects of plant-based ingredients.

We use what nature has provided us to give our customers a safe, pure, and cruelty-free product they can trust.
Learn more about Luxiny